Churches in Mexico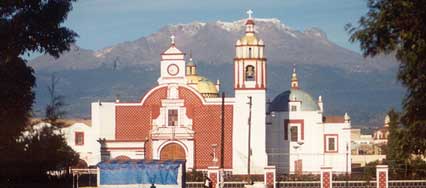 Tonanzintla Church, Puebla Mexico
The diversity in the religious beliefs and practices of the Mexican people can be seen in the vast number of places of worship in the country. There are about 5000-7000 churches in the entire country. A great number of these churches are evangelical or protestant, although the country is still mostly Catholic.
One of Mexico's historical churches is the Cathedral of Chihuahua. Built in the early 1700s, it is a catholic church that took over a hundred years to be completed. The building was damaged a little during the French invasion, but is still standing tall until today. Archbishop Jose Fernandez presides over the church.
Another outstanding Catholic church in Chihuahua is the San Francisco Temple. It is one of the oldest churches in the state. The body of the famous priest Father Miguel Hidalgo y Costilla, who proclaimed Mexico's independence, was originally laid to rest in this church.
The Basilica of Our Lady of Guadalupe in Mexico City is also a famous church; this is where Juan Diego Cuauhtlatoatzin allegedly saw a manifestation of Our Lady of Guadalupe. There is a church in Monterrey with the same name. Both churches are visited by millions of devoted Christians yearly. There is usually a celebration at both churches during the feast day of Our Lady of Guadalupe.
Another popular church is the Guadalajara Jalisco La Luz del Mundo Sede International church. The church is shaped like a pyramid, and can contain more than 10,000 people.
When visiting the churches in Mexico, try your best to look presentable. Wear appropriate clothing and refrain from wearing revealing outfits, including shorts and miniskirts. Also, when entering, remove your cap and sunglasses. Some churches also segregate the males from the females; it is best to follow the rules of the church so as not to appear disrespectful.