About Mexico, Your Travel Guide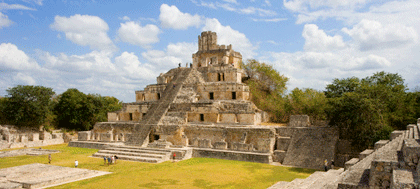 Etzna-Tixmucuy, Mexico
Famous for its deep history and beautiful beaches, Mexico is one of the most traveled places in the world. According to the WTO, it is the 8th most traveled destination by foreign visitors.
Known formally as the United Mexican States, Mexico is the 5th biggest country in the Americas, spanning nearly 2 million square kilometers. Mexico can be found in North America, bordered by the United States on the north, by Guatemala and Belize on the southeast, the North Pacific Ocean on the southwest and the Sea of Cortez on the east.
Mexico is made up of 31 states, the capital being Mexico City. Mexico is the 11th country in the world in terms of population, with more than 100 million people living all over the country. Mexico is considered to be a middle-income country.

Chichén-Itzá, Pirámide de Kukulcán

Playa de Cancun
Mexico contains a variety of tourist attractions, such as archaeology sites, ancient cities, pyramids, national parks, and museums. Mexico's mysterious history, specifically the Aztec and the Maya civilizations, have also attracted numerous tourists worldwide.
Mexico boasts lush natural resources such as jungles and deserts, as well as an unparalleled biodiversity. Its expansive coastlines and beaches, such as those of Cancun and Acapulco, have been popular destinations for spring break parties and other occasions.
Mexico offers diverse forms of entertainment for all people. These include unique food and drinks and a great nightlife. A range of sports and activities are also available in Mexico, such as golf, fishing, scuba diving, Mexican rodeo (charrería), bullfighting and soccer.
There are various languages used in the country, with the dominant language being Spanish. Mexican currency is the peso, with 1 US dollar amounting to approximately 10 Mexican pesos.
From the United States, there are various ways to get to Mexico, via air, land and sea.
Enjoy the richness of Mexico, with its natural wonders, strong culture and welcoming people. Come visit Mexico and see it for yourself!